Maria Massei-Rosato is the screenwriter of LOST IN CONTROL, a mother-daughter story against the backdrop of a cross-country bicycle adventure. Winner of Best Unproduced Screenplay in Milan International Film Festival, Montana Covellite International Film Festival, and Screenwriting Masters Contest and finalist in multiple film festivals, the screenplay follows a strong-willed daughter faced with a myriad of decisions surrounding the bicycle journey and her mother's illness. The mom is a spitfire Italian-American Brooklyn native whose quick wit and sharp tongue wane as dementia sets in. The mother-daughter story unfolds in a series of flashbacks and fast-forwards as the daughter and her reluctant husband cycle from Seattle to Brooklyn.
Maria learned her screenwriting craft from Robert McKee; the Aristotle of our time and instructor of the widely popular Story Seminar, his students have included hundreds of Academy and Emmy Award winners. Maria aspires to be one of them.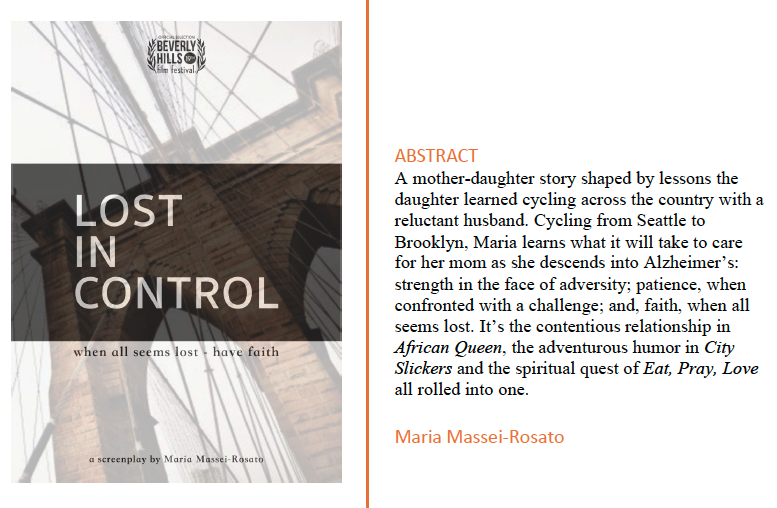 Acceptance Speech in Milan for Best Unproduced Screenplay
Cross-country bike trip leads to award-winning screenplay for author
By Jennifer Van Heel, Shelby Promoter
It's doubtful many people remember Maria Massei-Rosato and her bicycle trip through Shelby nearly a quarter of a century ago. But she remembers Shelby. Since her first trip biking cross-country through Montana, she has authored a book and screenplay, "Lost in Control." She wrote the book after her mother was diagnosed with Alzheimer's as a follow-up to a bike trip she and her husband, Tony, made to raise awareness about the disease 24 years ago. An article featuring the duo appeared in the Promoter back in 1995.  Massei-Rosato reached out to the Promoter to share her screenplay, which was recently selected for the Beverly Hills Film Festival this year.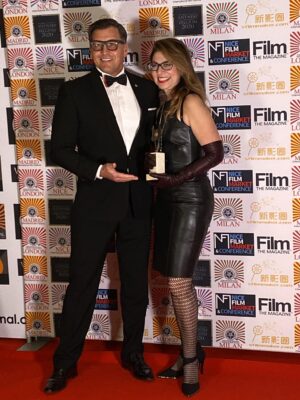 From Cross-Country to Hollywood: A Journey to Raise Awareness for Alzheimer's By Maria Massei-Rosato
Back in 1995 I traveled cross-country by bicycle.  Yes, 3000+ miles from Seattle to Brooklyn on the pure power of pedaling and heart-pumping adrenaline.  Along the way, I learned some very important life lessons that helped me care for my mom during a prolonged illness and have acted as guideposts for me ever since. Little did I know those seven weeks on the road would ultimately take me to Hollywood.
I had intended the cross-country adventure to be a time of contemplation, to figure out what I wanted to do with my life, and to enjoy carefree responsibilities before my husband and I had children and before I cared for my mom who had been recently diagnosed with Alzheimer's. This prompted another reason to ride: to raise awareness for the disease. 
My husband and I stopped at local newspapers in seven states and I hoped readers would learn more about the disease and if they were caregivers, perhaps feel a little less alone.  And while I felt good about getting the message out, I never really had time for contemplation. I was too focused on surviving – biking through a dangerous lightning storm with no shelter in sight, racing past drunken men with a rifle, and stopping when a cougar blocked our path, just to name a few. And when I wasn't worried about making it home alive, I was doing mathematical gymnastics: how many miles to the next meal, next motel, next state.
Of course there were so many wonderful memories. We met strangers who went out of their way to help us out, like the cowboy with a white hat and white pickup truck, and a dog named Rumor, who gave us a lift to avoid the drunken men with a rifle. And we connected with friends in Glacier National Park, who helped us find our courage to continue.  Even following in Lewis & Clark's footsteps by crossing the Continental Divide was such an unforgettable experience.
Yet, in the moment, it was difficult to articulate the magnitude of such a journey. When I returned home, I started to write about it, first in the form of essays, then I got serious and went back to school for an MFA in creative non-fiction. I ultimately ended up with a 258-page memoir that not only shared the bicycle adventure but expressed the deep relationship between me and my mom, and a three generational tale, showing, for example, the loss of my mother's ability to walk and talk, while my toddler son spoke his first words and took his first steps.
With the memoir completed several years ago, I turned my attention to adapting it for film. It just seemed to me the visual backdrop of this beautiful country overlaid with the complexity of a reluctant husband – he never wanted to cycle cross-country – and enriched with flashbacks and fast-forwards that told the story of a strong-willed daughter (me) and an equally strong-willed Italian American spitfire of a mom would be something I wanted to see on the big screen. I like to think of it as Wild on wheels, the movie based on Cheryl Strayed's book.  I stumbled upon my first film festival online and submitted the 113 page screenplay last June. When it placed in the top 10 I knew I was onto something. Several submissions later, I ended up placing in the finals for The Beverly Hills Film Festival, one of the more prestigious film and screenplay competitions.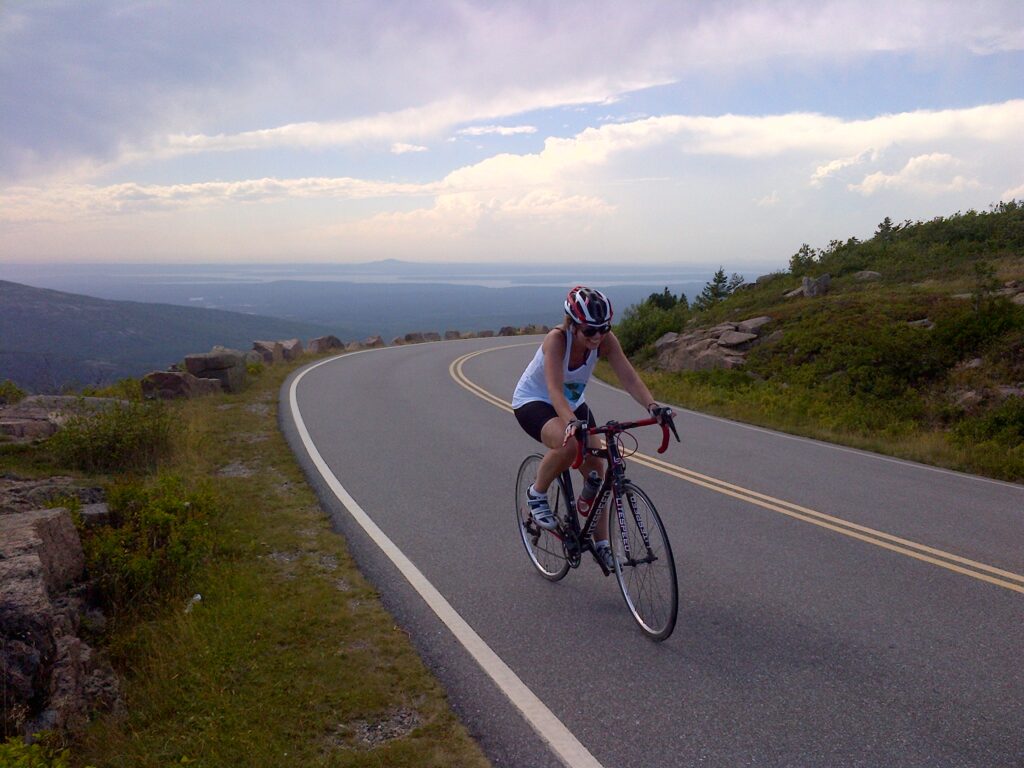 The Hollywood experience this April was such a blast – screening films at the world-famous Grauman's Chinese Theatre (and walking on the stars of the Hollywood Walk of Fame to get there), networking with screenwriters and producers, photoshoots on the red carpet, VIP after-parties at hip locations like the rooftop lounge at the W hotel. And even more fun because I shared it with family and friends – 10 of us!  That's right – I had an entourage – I guess you could say I acclimated well to the Hollywood scene.  The festival culminated in an awards ceremony in the Hollywood Roosevelt's hotel ballroom where the original Academy Awards were held in 1929. While I didn't win, I learned lots about the industry and have several leads to move forward. 
My screenplay also continues to do well on the festival circuit, so far placing as a finalist in 11 contests.  On weekends you can find me applying to more film festivals, talking with screenwriters, tracking down agents, connecting with production companies led by women, searching for celebrities who are as passionate as I am about raising Alzheimer's awareness through making this film, and finding ways to connect with Rhea Perlman, the perfect actress to play my mom.
I'm confident one day you will see Lost in Control on the big screen. And the meaning of the title?  Before traveling cross-country, I had embraced a bravado that meant: I could control anything. The bike across America proved me wrong.  The lessons I learned during the cross-country adventure I apply in all aspects of my life from caring for my mom who has long since passed, to raising children, to this new journey toward publishing my memoir and having my screenplay made into a film:
Life requires strength in the face of adversity, patience when confronted with a challenge, and faith when all seems lost. 
P.S. If you know Rhea Perlman, tell her I have the perfect role for her. 
To stay up-to-date on Maria's events and publications, share your email and receive her recommendations for top books on writing and creativity.